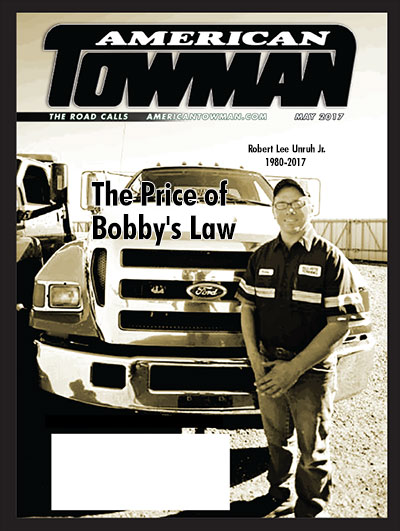 LOW DOWN May 2017
Note: An error in the print version inadvertently cut out the article's last two paragraphs. Here is the article in its entirety.

"Bobby's Law"
By Steve Calitri

It's been said you can judge how a man lived by how he died. There was one tragic instant in March that revealed how towman Robert Unruh lived. The 37 year old son of Linda Unruh, owner of All-Rite Towing in Tucumcari, New Mexico, Robert was dispatched with his service vehicle to clean up an oil spill on the freeway. He took a trainee with him.

On scene already was All-Rite's heavy duty wrecker operator, Chad Becerra. Unruh positioned the trainee on the non-traffic side of the vehicles while Chad was setting up equipment on the traffic side. Unruh then got behind the trucks to direct oncoming traffic to move over one lane. The vehicles were heeding his signals, but for one, and he could tell this truck wasn't going to move over.

Unruh shouted his alarm, warning Chad, and bolted to him, stuffing him into the tool box compartment, then lurching his body towards the head of the wrecker. Maybe if he had gone under the wrecker, was a thought of many afterwards. He was clipped at the hips by the passing truck, sending him airborne; his head coming down on the truck's mirror. He was gone moments later.

Chad, the operator that had been thrown into the tool compartment was untouched­ – saved by a veteran towman familiar with the perils of working the roadside, whose split-second thought was to save the other.

Robert Unruh's two sons*, ages eight and ten, are now being raised by Linda. Linda, amidst her grieving, immediately lobbied the state of New Mexico to include tow operators and stranded motorists as protected parties in its Move-Over law. Within 17 days the new law passed and legislators named it, Bobby's Law.

"Bobby started hanging around the wreckers when he was eight. He was driving a company wrecker when he was 17," his mother recalled.

When Linda had related the details of the accident, I remarked that she must play them in her head over and over. "There's not a day goes by that I don't play through it a thousand times," she cried out, expelling some of her grief. She then mentioned how the loss was sinking in hard on Bobby's younger sister, Channee.

About 1000 attended a special service for Bobby and over 40 emergency service vehicles formed a procession in the small hometown they hailed from in the days before Linda set up shop as the first tow-woman in New Mexico. I asked her what words best described her son and she said with great pride that he was "the kindest soul."

Then she launched into talk about raising awareness of the Slow Down, Move Over law. Linda has a sweet softness about her but has an iron will. It served her well toward success in an industry very much a man's world.

The Spirit Ride will route through Tucumcari, New Mexico in August with Linda taking the lead to orchestrate a big ceremony and procession through Albuquerque and draw the media's attention to it. With her behind it I know the Ride through New Mexico will be a huge success.

But I wonder how many such successes it will take for the public to slow down and for towmen to take all precautions. How many great people, like Bobby Unruh, we will lose. I told Linda I know she keeps her son alive inside her but more than that, I know her son's spirit is very real.

I believe this. I believe it as much as I believe that human forms, voices, and emotions travel through airwaves into phones and onto screens. Just as I know that thousands of Spirits will be on the Ride, helping it along its route, intent on saving the lives of their brothers and sisters on the roadside, if these Spirits are in any way like Bobby's.

Note: The Spirit Ride is a project of American Towman Spirit Inc., a non-proft corporation; it's purpose is to promote public awareness of the Slow Down, Mover Over laws. Any reader who would like to support the Ride may contribute as a sponsor at www.ATSpiritRide.com.